Common Side-Effects of Antidepressants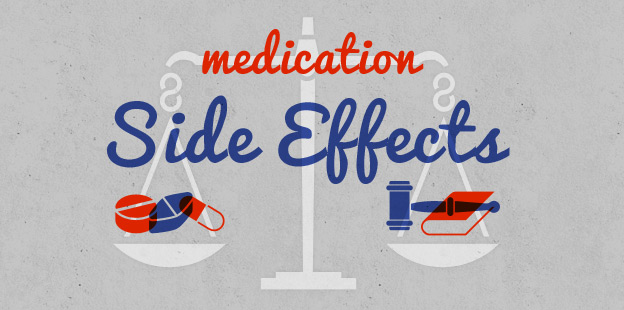 Come imagine with me a resilient fellow, named Sebastian, with recurrent, severe depression. In his mid-40's, he is active when he can be. With a wife and six children in the home, he tries to be the best husband and father he can. He has experienced what it means to be untreated and under-treated for severe depression and has suffered the consequences. Now that he has found the right cocktail of medications to keep him from suddenly plunging into darkness, he has discovered a new form of insanity.
Antidepressants can bring with them their own set of issues. The side-effects can range anywhere between slightly annoying to extremely agitating. What happens to you depends on the type of medication you take. Sebastian takes a SNRI (selective norepinephrine reuptake inhibitor), two atypical antidepressants, and an alpha blocker for nightmares.
Common Physical Side-Effects
One of the first side-effects our fellow had was blurred vision. He was driving his children to school one day when it happened. He could no longer see things in real proportion. Sebastian's poor daughter had to take a quick lesson in driving a long wheel-base van. Fortunately for our fellow, it lasted less than two weeks, but it can drive one crazy during the experience.
Dry mouth is another ongoing problem. He often wakes up with no liquid in his mouth, parched lips, and an awful taste that he thinks surely his wife and children can smell. If he does not take a drink first, one of his medications will stick to the top of his mouth and stay lodged there until some flood of fluids carries it away. Sebastian has discovered the only remedy is to keep something in his mouth throughout his waking hours. Copious amounts of water, flavored drinks, or hard candy help. See what our fellow has to look forward to every morning.
Sebastian has tremors, too. They can be mildly irritating or outright disabling. He tries to be somewhat of a handyman about the house, but often finds he has to make several attempts to get a screwdriver in the slot, hammer a nail, or put something up that requires a steady hand. He is especially embarrassed at supper. He sometimes spills his drink and when he tries to eat, there may be nothing left on his fork by the time he gets it to his mouth. Our fellow feels like a little child that needs a large bib and someone to feed him.
Other physical side-effects can be headaches, dizziness, sweating, nausea, constipation, diarrhea, joint pain, muscle aches, and skin rashes. These are often mild and temporary and "many people build up a tolerance to these early side-effects, and they rarely require discontinuation of medications." (Dr. Madhukar Trivedi, MD.)
Issues with Sleep and Weight Gain
Sleep is quite an adventure for dear Sebastian. Without medication, he has terrible insomnia. (Sometimes anti-depressants can cause insomnia. Go figure.) When he does sleep, he has to take a "no dream" pill to prevent nightmares and acting out. It does not work all the time. Sebastian will flail about with his arms and legs, hitting and kicking imaginary people or things. At other times he screams, cries, sounds like a baby, makes speeches, or carries on a normal conversation with an unseen person. His lovely wife has to be a brave woman to sleep next to him. His sleep disturbances can contribute to irritability and anxiety. Trouble sleeping can cause Sebastian to be fatigued and drowsy during the day. Our fellow would either be taken to jail or declared legally insane if the right people observed his behavior while sleeping.
The inability to sleep also contributes to suicidal ideations. Although suicide is a slight risk affecting about two to four percent of those who take anti-depressant medication, it is a grave concern. Those who already have a plan to harm themselves may be the most vulnerable. Anti-depressants may give them enough energy, which was in short supply before, to carry out their plan.
Weight gain can be a late arriving and long lasting side-effect. It is one of the major reasons people either stop taking their medication or insist on a change. Sebastian has lost a significant amount of weight. He looks good and feels better about himself. However, the last 20 pounds he wants to lose has been tortuous. He has cut his food intake so severely that he wonders how long he can maintain his restrictive lifestyle. But, it is necessary if he wants to reach his goal. Our fellow is fighting the good fight against increased appetite and weight gain, but he wonders how long he can maintain his restraint without a complete breakdown.
Sexual Side-Effects
Sebastian is young and healthy enough to act on his sexual desires, but the medication prevents performance. Sexual side-effects from anti-depressants are long-term. Like weight gain, sexual dysfunction is a major reason people stop their medication.  Sebastian has experienced it all – difficulty getting an erection and maintaining it, trouble with decreased orgasm or none at all, and a decline in sexual desire. After all, why would you be interested in sex if you cannot perform? Sebastian has tried several things, but has not found anything that works consistently. He and his patient wife try to schedule a night for intimacy. On that day, he does not take his medication. Sometimes it works and sometimes it does not. The lack of medication during the day can leave him feeling sad and blue, and without any sexual desire. At other times, he is still unable to achieve or maintain an erection, or have an orgasm. Our fellow has a God given natural desire, but the inability to carry that desire to fruition is maddening.
I have often told my children that the most difficult decisions in life are not between good and bad, but between good, better, and best or bad, worse, and worst. Sebastian has found this to be true in regards to untreated, under-treated, or treated depression. The choice comes down to which form of insanity do you want to experience. Our long-suffering fellow has chosen to be treated for his recurrent severe depressive disorder and learn to live with or manage his side-effects. To be untreated or under-treated has caused too many adverse consequences that he does not care to repeat. Furthermore, the risk of suicide without proper treatment is too great for Sebastian.
Sebastian is right. Although the medication side-effects can be nearly intolerable, death is too great a risk to take with the other choices.
May God be with you.